Friends of D-PAN,

Everyday we receive inspirational e-mails and many have asked "How can I help out?", "I want to see more videos!", "Are there ways I can be involved?", yes, yes, yes, but we need your support.



Here's how you can help D-PAN:



D-PAN's compilation DVD "It's Everybody's Music" Volume 1 is in stock and shipping now! Your purchase is important for D-PAN because proceeds from DVD sales will help D-PAN create more ASL music videos, career and learning opportunities for deaf and hard-of-hearing performers, and more!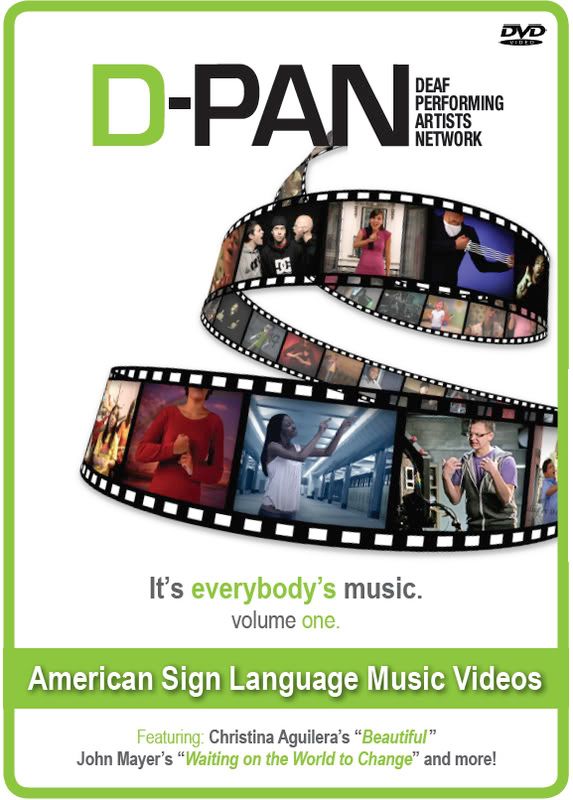 "It's Everybody's Music" Volume 1 DVD Includes:

- John Mayer's "Waiting on the World to Change"
- Christina Aguilera's "Beautiful"
- Eminem's "Lose Yourself" performed by Sponge
- More music videos by community performers around the world
- Mini-Documentary "Signing Songs: The Making of D-PAN Music Videos"

If you know of any friends, family, students, teachers, co-workers, anyone who loves music and loves sign language please forward this to them.

Please place your order today at www.d-panstore.com we appreciate your support!

Thank you,

Your friends at D-PAN
Sean Forbes, Scott Guy, Joel Martin, Ronald Dans
www.d-pan.com
info@d-pan.com